7/29 42.3/2899.2 Coraopolis, Pa - Dravos ldg, Pa
Another late start. I was on the road at 8 for a long miserable day. I missed the first turn to Neville Island on rte 51 and ended up climbing Mt Everest at least 3 times to get back on track. I spent most of the day trying to find a bike trail; any bike trail. The traffic was hideous and the hills beyond annoying. I finally got onto the Youghagheny trail at Mckeesport. It's part of a 300 or so mile trail that goes all the way to Washington DC. Crushed limestone with a slight uphill grade. I'm camping at a hiker/biker site. It's very nice, but empty. I feel really alone-oh duh, I am alone. It doesn't help that there's a cemetary here. I'm not sure who's gonna get me first; the live guy with the chainsaw or the dead one with chains.
7/30 52.0/2951.2 Dravos Ldg, Pa - Ohiopyle, Pa
Just moseyed along today. Sure wish this trail was paved, but it beats the streets. Met some folks on the road and even saw a tandem trike. The rest of the time I spent singing the entire musical score from 'Rocky horror picture show'. Seeing as I had so much time to reflect I came up with a brilliant idea-I have to get to the coast- but it doesn't have to be the NJ coast. So whatever beach is closest to D.C. is where I'm going. I'm splurging on a hotel tonight, my husband Jim is going to meet me here. Finally, we'll be able to argue about money and the kids in person instead of over the phone. I wonder if we'll have time to fight over the remote.
8/2 55.6/3006.8 Ohiopyle, Pa - Finzel, Pa
Jim bought me a new bicycle chain with him on friday-but cuz its a bent it took 2 days to replace; that's my story and I'm sticking to it. Today was just boring. I got on the road at 745, the rest of the day was blah, blah, blah, slog. I did get registered for school at trail detour. There's a gap of about 32 miles where the Yough and the C&O will connect. I took the detour, but some construction guys told me that people are using the the connection. While I was at the library a woman named Pam and the librarian gave me a better route to the campground where I'm spending the night. Then Pam drove out to make sure I was going the right way and even offered to drive me there. There was some nice scenery but my mileage is disappointing. The 10ish miles of detour took forever, the hills were tough. I'm tired of being out here. It's taking everything I have not to quit. I was kind of sluggish today, I didn't seem to have much energy, I hope nothing's wrong-oh wait never mind. At least I broke 3000 miles today. This campground is major ghetto, but the people who run it are nice. The woman made me dinner while her kids kept me company.
8/3 79.1/3085.9 Finzel, Pa - C&O 126.4, Md
On the road at 715. The first 8 miles of the detour were hard, the next 12 were sweet, almost all down hill. The C&O is rougher than the Yough, but I would like it better if it wasn't for the mud. It must've been raining here the last few days because there are a lot of muddy spots. As soon as I get up to speed I have to slow down for a puddle. The path is well shaded and there are hiker/biker sites every 5-10 miles with chem toilets and handpumps for water. I'm really impressed by this towpath. I think I might drag some family members down here and do it again. But I don't care what the website says; this trail requires knobbies and a good sports bra. I met a couple going towards cumberland, they were both pulling bob trailers- I thought they were going cross country. When I asked they said they had so much stuff because they "came all the way from DC" I had to laugh. I'm starting to see the light at the end of the tunnel, if it doesn't rain I should hit DC by thursday and maybe home by saturday. I'm staying at a hiker/biker site- only downside: I REALLY NEED A BATH!
8/4 66.5/3152.4 C&O 126.4, Md - C&O 62.9, Md
Another sloggy day. Some of the towns along the path are close to the trail- so the hill isn't godawful big to get to anything. I talked to Jim about quitting in DC, I mean come on, its our nation's capital for God's sake! Isn't that enough? DC is on the Potomac, the Potomac feeds into the Chesapeake, the Chesapeake is practically the Atlantic ocean. He just agreed with me and started pulling up trails and routes to the coast. I'm camping with a summer camp group. 4 young counsellors and a pack of 13 year olds. It's nice to have company, even if some of them are licking port-a-potty seats on a dare. They're doing a 3 day canoe trip. I got in kinda late, it was after 8 so I ate in the dark. A friend who shall remain nameless called to complain about my lack of updates but wouldn't committ to my Chesapeake-as-the-atlantic theory. Hopefully I can do some updating tomorrow. I'm so close, I'm so dirty. Day 3 without a bath.
8/5 68.0/3220.4 C&O 62.9, Md - Washington, DC
It rained last night, so the path was extra muddy in many stretches. I met a guy named Chad from FL who did the adventure cycling cross country tour in '02 on a tour easy he had owned only a week. Now that's bold. He told me he did a lot of pushing. We talked for quite a while about bent stuff and trashy western novels. While I stood there yaking with him we were passed by more people then I've seen on the trail since I started. Further on at white's ferry- there's a ferry into Leesburg and a resturant with great fries there I met up with the folks I rode with the rest of the day. Ernesto was doing the C&O with 2 of his grandkids; Amber (13) and Charles (17). He's an avid cyclist and fly fisherman. He told me about a $150 stick he had to pass up on his last trip here. Who would pay $150 for a stick? "well it's bamboo", "but its still a stick, right?" , "but its for fly fishing" "does it make you catch more fish?" "no" hmmmmmm. It was nice riding with them. We talked and paced and they helped me carry my bike over the rock garden detour. We stopped at Great Falls and took some pix, Charles ran into me and knocked me off my bike and Amber splashed me with mud- I had a good time. At there leaving off point they put me on a PAVED trail that went into the city. Talk about your lycra go-fast, when I got on that path I felt like a dawdling, country bumkin. I've never seen so much polyester whizzing by me so fast. I'm staying at the DC hostel tonight, took me 20 minutes to get here after a good samaritan rode with me for a bit to get me on the right road. I wanted to stop at all the capital stuff and get pictures of me sprawled in front of them, but I'm afraid I'd get arrested for vagrancy. I'm really tired.
8/6 71.5/3291.9 D.C. - Denton, Md
I got out at 7:05 and after some confusing directions I escaped DC. I took rt214 most of the way. The shoulder was good and the traffic not bad. I spent 20 minutes on the cel working transportation across the Chesapeake bay bridge (they dont allow bikes). I set up a 4pm pickup with the obtuse dispatcher of a taxi company for $15. Then I headed for Annapolis. 10 minutes later I got a flat. Great- and that's WITH a tuffy liner. Turns out it wasn't the liner- the conti (new 2 weeks into the trip) had a tear in the sidewall. I ended up putting my old tire back on. I wasn't sure how far I had to go so I rode my bike like I stole it. When I saw a sign putting Annapolis at 15 miles and it was only 12 I got happy. When I got passed by a lycra-go-fast guy who said 'hi' I stopped him to get directions to the place I had to be. He gave me the directions and then led me the 10ish miles out of his way through Annapolis and the Naval academy to get me on the right track. Jeff the marine turned insurance saleman then gave me his yellow armstrong wristband. The route was a tad hilly but I got to the pickup point by 2:30. Turns out the spot was perfect for hitching a ride. So I made a sign "need a ride across bridge with bike, I'll pay toll". Bout 10-15 minutes later Mark the limey roofer gave me a lift. He also told me that if the beach was farther then 65 miles from the bridge he'd pay for my trip (I thought it was 100 or so miles). But he laughed when I tried to get contact info to collect, cuz one way or another it was going to be more then 65 miles. Mark wasn't going across the 2nd bay bridge but there was a drawbridge next to the bike-free bridge that got me across. the road kinda flattened out after that- even I couldn't complain too loudly about the grades. I took 50 to 404 to Denton- I could have ridden my bike sideways on those shoulders. At Denton I decided to call it quits and splurge on a hotel, this is my last night! I'll be home terrorizing my family by tomorrow. I can't believe it, one more day, 30 or so miles. Jim and the kids are coming down to meet me. I just hope I don't get killed for not paying attention on the last leg. I feel like a retiring cop; you know, the one that gets shot 2 days before retirement. Coincidently Moni will also finish tomorrow- further north in Jersey.
8/7 53.2/3345.1 Denton, Md - Cape May, NJ
OK today was almost a goat roap. I left late because I only had 30 miles of oh so very flat riding. I took the direct route towards Slaughter beach, DE; the closest bit of water I could find to my location. When I got to Milford, DE I stopped for lunch and to pat myself on the back- I was 10 or so miles from Slaughter. Unfortunately I made the mistake of studying the map again. That's when I discovered that Slaughter was NOT on the Atlantic- I was being chumped by another stupid bay. So I girded my loins for another 23 miles to Lewes beach, but wait, there's a ferry from Lewes to Cape May NJ. It cost $7 for me and $1 for the bike. They leave almost every hour. If I gotta go to Lewes I might as well get to my home state. I did that 23 miles in an hour and 15 minutes. And it was FLAT!! Gone were place names like "hilltop" and "mountainview". I was seeing roads called "flatiron rd" and "pancake st" and "hey; you can see england from here dr". I was in heaven AND I had a tailwind. I got a call from Moni- she reached the NJ shore at South Amboy further north today. When I got to Lewes I was major cheesing. I wanted to tell everybody I was done. I met up with Micah who had led a supported group from DC to Lewes- along most of the same route I followed. We talked bikes and tours and his organization most of the hour and a half ferry to Cape May. His group was heading for NY to finish the charity ride. When I got to Cape May I got another disappointment; I was still 6 miles from the Atlantic!! Dang, you'd think as big as that thing is I'd be able to find a piece of it. So once again I lit out like a bat out of hell looking for some ocean. On rte 9 a car pulled over and 3 people leaped out- it was my family! Jim, Nieci and Jalysa were looking for me at the ferry. We gushed on the side of the road for awhile, Jalysa (my 14 year old) is now taller then me, Nieci (my 17 year old) looks almost grown. I gave them the bad news and hit the road again.
After what seemed like forever I finally found the Atlantic. My sister Leslie, her husband Ron, their kids and my nephew Cam were on the way. So we waited at the entrance to the beach for them. When they got there my husband and I carried the behemoth up the stairs and dragged that #@#$%$# thing across the sand to the water. I toyed with the idea of pushing it out to sea. We did some photo op stuff, drank some champagne hung out for a bit, strapped the behemoth to the car and then went to find food.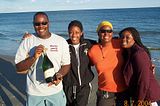 8/8 HOME
I want to thank everyone who helped me along the way, the people who emailed me with words of encouragement, and everyone who took the time to read all the junk I've been spewing the last couple of months (oh, by the way there will be a test I hope y'all took notes). There's no place like home, there's no place like home, there's no place like home. I'm so glad I'm done. I missed my family, I missed my dog, I missed my bathroom. I got home last night around 11:30. I played with the dog and my laptop. I could not remember where my clothes were or which toothbrush was mine. I'm glad I did this trip. But I will never, ever, ever do it again. My father and 2 other sisters, Missy and Leigh (the one I mistakenly gave access to my site to- she decided it needed "special" colors and a page with her picture plastered all over it, lol) came by. They remarked at the amount of weight I lost (19 lbs), made endless jokes about the secret squirrel tan I got from my sunglasses and threatened me with bodily harm and leg irons if I ever did this again. I have much settling to do. But right now I'm just enjoying being home. I'll clean up the mess on this site- honest, and add some pictures. But now, I think I hear my kids doing something they're not supposed to...its so good to be home.
BACK TO OHIO
TRY AGAIN HOME
HOME
PACKING LIST/ LINKS & BOOKLIST
STATE BY STATE