6/9 39.2/738.1 Lolo Hot Springs, MT - Missoula, MT
I did it!!! Goal #1 is accomplished; I got my picture in front of the sheet at adventure cycling association. We left LHS at around 9:30 and got to Missoula around 3. we rode in with the Eber's so we got an escort to ACA by Paul Adkins of ACA web fame and his wife Monica and their 2 kids; Rainy and Torrent(I'm not making this up). We hung out at ACA for a few hours, got the tour, ate some free snacks and took the pix.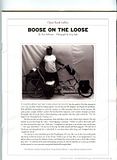 From there we went to Paul and Monica's house where they cooked us huge monster burgers and tea and beer and promised a big homemade pizza dinner tomorrow. I finally got a signal on my phone (remember-cingular sucks)and called home. After dinner Paul dropped me, Paul, Anya and Yvonne at the movies to catch Harry Potter 3-it was ok. Yvonne found another licence plate today, we now have a license plate from every state we've passed through. But Yvonne has found 2 of them- we're gonna have to take her with us when we leave. we're gonna be here 2 days so tomorrow is :laundry, tent shopping, library, aca and touristy stuff. We're camping in the yard of Paul's neighbors- George and Louise(I'm not making that up either)wonderful people who leave their door open so we can use the bathroom.
6/10 9.9(bonus miles) Missoula, MT
We laid over today. It rained last night and the tent fly I borrowed from Paul leaked. Of course it pooled right where I carelessly laid my journal. I was up early, 5:50, the lake forming in the center of my tent was inspirational for an early rising. I stood outside Paul and Monica's back door with my face pressed against the glass til Monica felt sorry for me and let me in. We watched Paula Eber give her interview on the morning news on tv. I milled around til Paul and Moni got up. We had tea with George and Louise and then hit the streets. We went to a bike shop so Moni could get her handlebars fixed. The mechanic said he would never have ridden the bike with the repair we made- but I noticed he couldn't separate the pieces we had melded together either. After that we headed toward ACA but we got separated- I saw a library sign and I don't remember anything after that. I got a couple of entries updated and finally headed back towards ACA (I had to detour and check out a couple of very sexy tents). It looks like I might make the photo gallery, I can't wait, all that groveling and campaigning paid off!!! Later we went back to the Adkin's and had the best dinner- Paul made about 14 homemade pizzas. They were delicious. The weather is still pretty skanky here so we decided to get a cabin over at the KOA campground til we leave.

My sexy new tent
6/12 57.6/795.7 Missoula, MT - Ovando, MT
I'm sleepy. I went to bed late and got up early. We went over to the Adkin's to say g'bye to them and the Eber's. we hung there for awhile, watched another tv spot about the Eber's, did the sad farewell stuff and hit the road. Me and Paul got sucked into a farmers market and parade. I don't think we actually left Missoula til after 11. Moni lit out during the teary goodbye scene. kinda boring day. Nothing distinguishing, no major ups or downs. Just slog, slog, slog...etc. My phone did it's disappearing reception a few miles outside of Missoula(did I mention stay away from cingular?) dang @#$#@# phone-and its a prime phoning day. we caught up with Moni again aprox 13 miles from Ovando, she said she was waiting for us cuz she wasn't sure if we could make the last 13 miles and maybe we might want to camp here (lol). Paul and Moni lost me pretty quick after that. I got to camp about 1/2 hour after them. We're camping(free) on a museum lawn with some folks mountain biking the great divide. They're an interesting bunch. Mike rides a 'bent when he's not on a mtn bike. Bill's got scads of touring experience; he rode the 1st bicentennial ride in the 70's and did the entire round the world with the doomed odyssey crew. Donna is a shredding hardcore mtn biker (1st one I've ever met over 50) from Vancouver. Marty... well he's not that interesting, but he was a funny guy.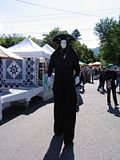 Sights at the farmer's market
6/13 58.2/853.9 Ovando, MT - McDonald Pass, MT
It started raining before I got up. I woke around 5:30, Moni woke me around 6:30 and I finally dragged out of my tent around 7, I hate getting up in the rain. I was cold- I should have put on warmer stuff, but at least I was dry. This was my first test drive of the tent I bought in Missoula, a cute, red 2 man coupe. We had breakfast with the divide ride bunch. Paul and I rode out about 20 minutes after Moni. The scenery was beautiful but boring. My knee hurt a little but not badly. I gotta stretch more. We stopped in Avon and I called the 'rents from a phone in a restaurant. It was only 9 miles from where we THOUGHT we were camping. The camp turned out to be another 20 miles, uphill in the wrong direction. so we headed up Mcdonald Pass(ugh). The climb was hard but not as hard as Lolo and way easier than Winchester (my barometer for climbs now). It was 4 miles at the steep grade and took me an hr and 15 minutes, not too shabby. I wanted to continue on to Helena(12 miles- downhill). but Moni had already set up camp and didn't want to leave- she got there over an hour before we did. I'm tired, but its a good tired. My legs are stiff but not overly so. However I really, really need a bath. I haven't had one since Missoula and I can't change clothes til I get one(except underwear and socks-even I have standards). I think I'm getting in better shape, but it's hard to tell, I'm still pulling the rear. Hopefully I can clean up in Helena. Factoid: How bad you have to go to the bathroom in the middle of the night depends on how far away you are from the nearest facilities and how bad the weather is. I beat my previous max speed with a whopping 46 mph. I could have made 50 but I chickened out. 1/2 way down this 12 mile gift from God we got stopped by the tree police. Seems the fire Moni started this a.m. was not completely extinguished. I took a picture of the citation, but couldn't get the forest cops to handcuff Moni, or even look menacing, oh well, maybe next time. They just smacked Moni on the hand and told her to go and sin no more. We spent a lot of time in Helena. Me and Paul looking for a bath and laundry and me and Moni looking for internet access. We went by a Jesuit college in town, but they weren't interested in the advancement of mankind- or clean cyclists. so we schlepped over to the Y and paid $2 to take prison showers (big room with showerheads). I bathed with my swimsuit on. It's bad enough that apparently no one in MT has seen Black people, I'm not sure what would happen if they saw Black people naked. The staring is ridiculous. Anyway once (at least 2 of us) smelled better I got a quick shot at updating my site and we ate at a little cafe called the green iguana. For $8 I got soul and all the salad I could eat. They even let me take some salad to go. The owner told us to look up a guy in a sporting goods store in Townsend about camping. we hit the local bakery, almost got a ticket for blocking a handicap spot and went on our merry way. By then it was almost 4pm. We hit a couple of rollers outside Helena and one hill that almost got me whining(but I was up it before I could really get started). After a couple more small penance hills we hit a really nice 7-8 mile downhill pushed from behind by a nice tailwind. We did that 30ish miles in couple of hours. when we got to Townsend we dropped in on Jim and Heather at the sporting goods store. They gave us beer and bison jerky. We then went back through town to stay at the state park. No water and just pit toilets, but it was better then the ghetto RV place next door that boasted showers, laundry, phones and the most depressing locale I've ever seen. There wasn't even a picnic table for tent campers. We did sneak back over and wash our clothes and ourselves(whoopee!- 2 baths in one day, now i can go twice as long next time!)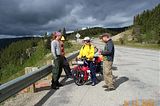 Moni's gonna do the perp walk
6/15 45.7/954.6 Townsend, MT - Warm Sulfur Springs, MT
Lesson for the day: if someone in a car says the road ahead is "mostly down", said road is "mostly up". Today was very taxing. To start off I fried my new stove pump- Lorenz if you're reading this: I will never listen to you again. I didn't use the wind screen and this sudden gust of wind turns my pump handle into some flaming cherries jubilee looking something. I didn't expect the hilliness we encountered, and the wind was definitely NOT our friend. It was either a crosswind or headwind all day. We hit a medium hill a couple of miles out of town and 1/2 way up I hit some sort of wall. I was freezing and starving and couldn't go farther til I ate something. Factoid: 2 apricots will take you 3 miles. Today was cold, windy, hilly, and draining. We went thru the winding, hilly canyon of death. It went on forever, and mostly up. It would fake like it was ending at the next hill and then BAM!!! more canyon. I put my music on, geared down and spun. At times it was 45 deg not including the wind-chill. It sprinkled at times. I think it was the combination of cold wind and hills that dragged me down. I think this day even defeated Moni. We're in a hotel in WSS. For $4 less they would have let us camp on the lawn and not bathe. I ate, got a beer, soaked in a hot sulfur spring. (I wonder who first saw a sulfur spring, got a whiff of that farty, rotten egg smell and said; "hey, I know, lets lay in that for hours!"). My legs are tight and I'm sleepy but otherwise ok. I hope a good night's sleep will do me good. Right now it's hailing outside.
6/16 58.4/1013.0 WWS, MT - Harlowton, MT
We went over 1000 miles today!!!!! It was a reasonably good day. The hills were not bad and I even managed a good spin up most of them (over 85 rpm). We left town after breakfast at Dori's cafe Note to self: never go there again, the service was decidedly frosty. We hit a good sized hill outside of town and the rest of the day was rollers and some good downhills. I had good speed most of the day. We followed rte12 all day. At a spot on the map called Checkerboard we stopped for a v8 and a ding dong and put a marked dollar bill on the ceiling. They had pix on the wall of local military members and in one of the shots was a C-141 from one of my old units(the 514th). Mostly we just rode(me and Paul- Moni left before us). We got into Harlowton around 4. I was all ready to find the library and do some pc stuff, but alas, they just moved and the computers aren't hooked up. sigh. We're staying at the park- not bad but no showers and the bathroom is a gazillion miles away- which means I'll have to pee in the middle of the night. After dinner (I shared Paul's stove) I rode back up the steep a## hill leading into here to use the phone and find some ice cream. A bit after I got back, a pick-up comes peeling into the park, stops by us and out jumps this old toothless guy who introduced himself as Digger, said he only puts his teeth in when he's "looking for a woman". He wanted to shake my hand. He had seen me about 30 miles back and tried to flag me down. He was a character. He had been in the marines and said all his girls were married to "colored" guys, his mom was a Pawnee and he was a "white, mexican nigger" He also told us to watch out for the reservations- "those indians are all thieves and you can't trust 'em. He took our picture for us and hung out for 30-45 minutes. He was interesting. I think I pushed it today, I'll have to take it easy tomorrow. We don't get another day off til Billings.
6/17 2.1 (bonus miles) Harlowton, MT
No traveling today. I woke up around 6, the wind was howling and the rain was plinking. I didn't hear anybody stirring outside so I went back to sleep. At 6:30 Moni yelled: "Beth you awake?" I answered: "yup, but I'm not coming out of this tent" she replied: "me either" Paul concurred, so we huddled in our tents til the library opened. When we went there, still no internet. So we spent the next couple of hours alphabetizing children's books. After lunch the librarian (Kathleen) got us some computer time over at the local school. We met LaDonna, who left me alone with her pc long enough to get my whole site updated. Then she invited us over her house for dinner and baths (I think she was performing a public service). Her husband Boyd is a cowboy who had been out all day today branding calves. She told us dinner wouldn't be anything big- I'd hate to see what they consider big, I had to crawl away from the table.
6/18 47.6/1060.6 Harlowton, MT - Lavina, MT
I got out early this a.m. 7:40. Most of the day was a grind b-o-r-i-n-g. Not enough hillage to occupy myself with crying about and the wind whistled through my head all day-drowning out the voices in my head. We stayed on rt12 and made a right into Lavina at rt3. At 15 miles we stopped at a cafe and noshed and then slogged 15 more to Ryegate. At the courthouse they let us check email, use the phone and eat lunch. The last 17 miles into Lavina actually went relatively quick, I was tired of the cold and wind so I poured it on. The lady from the courthouse said we should look up "Dr Bob" when we got to Lavina- so we did. Went to his house and introduced ourselves. I wanted to hear his story. 2 years ago he WALKED from MT to the statue of liberty. Took him 5 months. His story is here . He invited us in to use his computer, then to breakfast, then to shower, then to spend the night. I think if we had held out a bit longer we might have gotten cash prizes. He was a wonderful guy who used to be an MD but didn't like the system and now believes in herbs and symbols. Right now he's grinding the wheat for our pancakes....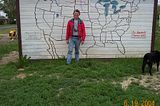 6/19 44.6/1105.2 Lavina, MT - Billings, MT
Dr Bob made us homemade pancakes this a.m.. We took some going away shots. The rest of the day was pretty skanky. Cold, clouds and some rain. In Broadview we stopped at a cafe/2nd hand store for tea and cookies. I bought my husband an old album- now I gotta figure out a way to get it home. We got to Billings around 2:45. Still no reception on my @##$@# cell phone- now a giant watch/phone book (have I mentioned recently my opinion of Cingular). We took the Zimmer trail into town, nice road curvy with a steep grade. Going down my bike felt squirrelly. Turns out I had a flat. I used one of m cartridges and kept going. We must've went through every closed road in Billings to get to Ryan's house (the WSL guy we're staying with tonight), when we got there Paul was already there. Ryan kindly put us up for the night, looked over our bikes, gave us laundry and internet access and beer. We took him to dinner at a nice pizza place, he took us shopping -I had to replace my #@#$ stove pump that "malfunctioned". Afterwards we did some bike stuff, I fixed the flat and tried riding his unicycle- apparently you CAN forget how to ride one of those cuz I barely got down the driveway. One more thing I'm going to have to work on when I get home- you never know when you might be called upon to...never mind.
6/20-6/21 ROAD TRIP
Got up after 7. Ryan made us breakfast(super, monster nice guy). We talked about it and decided to rent a car here to go to Mt Rushmore, etc. Ryan located us a vehicle and we hit the road for some massive bonus miles. We drove to Little BigHorn. It's very different learning about history and actually seeing where it happened. From there we went to Mt Rush and did the touristy stuff. I even went on stage during the lighting ceremony when they called down all the veterans. We got a cabin at KOA and the $2 breakfast in the morning. Rushmore was OK, but not as spectacular as I expected. Crazyhorse is still a work in progress. I'd like to come back in 10 years and see how its going. I didn't know it was started in the 1940's. So far the head is visible and a little outline of the horse. When it's done it will be the largest sculpture in the world.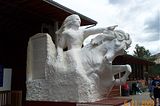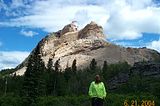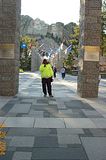 From there we went to devil's tower of close encounters fame. Ooh'd, aah'd and headed back to Billings. We did a total of 830 miles. I feel like I haven't been on a bike in ages. And we've done nothing but pig and spend the last 2 days; ding-dongs, soda, convenience store eggrolls (ok-what was I thinking?, ice cream, ...etc. I think tomorrow is gonna be hard...
6/22 37.1/1142.3 Billings, MT - Pompey's Pillar, MT
We said goodbye to Ryan's dad and his brother Seth this morning. One of Seth's dogs ate my towel (maybe- Paul said he saw Moni shaking it between her teeth). We finally got out of Billings around 10a.m. after stops at the P.O., supermarket, bakery and breakfast, ...etc. A woman we met at Ryan's the night before (Suzie) told us the ride from Billings to Pomp would be hard, but it wasn't that bad, except for some hillage and riding on the interstate all day. Noisy with fast moving traffic- but that pretty much sums up all the roads I've seen so far in MT. We got to Pompey's around 2ish, after meeting up with Suzie again. She came out to tell us to get off the interstate early because of some construction ahead. She also got us a place to stay the night near the Pillar. It's a huge rock thing sticking up out of the ground with William Clark's (of Lewis and Clark fame) signature carved in it. The pillar was at the end of a l-o-n-g gravel road. The signature was at the top of a l-o-n-g flight of steps. Sigh. We met Caity the ranger and learned some more interesting Lewis and Clark stuff; stuff I'm not going to share with you- why should I be the only one suffering for knowledge? Caity had mowed the spot we were to camp on and even bought us some water and mosquito coils (the place was infested with them). We went to the top of the pillar (nice view), saw Clark's name(early american graffitti), got some buffalo jerky and headed for camp and dinner. Now comes the fun part. My stove woes continue. The new pump I just got is only vaporizing the fuel, I can't light the stove. Gone are my dreams of a gourmet one pot dinner. I fooled around with that stupid thing for a good 45 minutes, all I got was dirtier and hungry. So I go back to the monument (long gravel road) and call the place where I got the pump-thinking its the wrong pump. Caity volunteers to take the pump back and bring me the replacement, but after she's already left the guy at the store tells me its the right pump. So I'm screwed. I got peanut butter and buffalo jerky on crackers for supper. My equipment hates me-all of it. I though it was only the phone, but now I realize its a conspiracy of all my stuff to thwart me. I was mad and hungry, I'm still mad. but I should have tested the new pump before I left town. Oh and the flat I fixed in Billings now has a slow leak, so I put a new tube in it while I fumed. guess I'd better go to sleep before something else goes wrong- and still no signal from my large clock/phone book.
6/23 76.3/1218.6 Pompey's Pillar, MT - Forsyth, MT
I am exhausted. Today was our highest mileage to date and a winchester. The 1st 47 miles were not too bad. Caity bought my pump back after 7 and we left at 8. We rode the interstate for 45ish miles, some of them tough. Several steep grades one after another. I saw some cyclist going the opposite direction on one of these grades, so I perked up and pedaled like I was going somewhere. After they passed I slumped back in my seat and continued slogging at 3mph. We gambled and got off the interstate and rode a frontage road 2 miles to a town called Hysham to take the back road to Forsyth. Big mistake. The 1st 10 miles were ok, but after a short steeeeeep hill a wicked head wind got hold and tormented me the rest of the way. Paul and Moni disappeared. It was miserable. At one point I was going downhill, pedaling, in low gear at 6 mph. I tried yelling and cursing at the wind, but nothing worked. I must have been averaging 4-5 mph. by the time I got to Forsyth I was spent, but proud of my longest day ever. I ran into Paul at the edge of town and we grabbed some food at a chinese restaurant, and then chumped out and stayed at a motel.
6/24 51.3/1269.9 Forsyth, MT - Miles City, MT
Hilly day today, but ended early- or would have if we had some sort of hive mind and knew where to meet at the end of the day. I rode mostly alone today (its tough riding sweep). up/down...etc. I met up with Paul just before the rest area, but only because he had a flat. We ran into Moni at the rest area, but she was on her way out. After that I was solo for the rest of the day. Interstate all the way. I headed for the KOA at Miles City looking for my compadres but got sidetracked by a bike shop. I went in looking for a new innertube, I should have been looking for a new pump, the mini I have is more like an exercise machine then a tire pump. The owner, Miles turned out to be an interesting guy, and I'm sure he's a closet bent'r. We talked for almost an hour and he let me use his pc. He warned me about the terrain ahead and the scarcity of water, he said not to get water at the rest areas, but we would be able to get it from people living along the road. By some miracle I managed to meet up with Moni and Paul. We immediately scattered again to do errand stuff and then headed for camp at the edge of town and 2 @#$#@ more hills. I'm worried about tomorrow- I hope I can pull off the mileage (looks like 82 big ones). We bought extra food and water-not that I need extra food, some of the stuff in my panniers has seen more of this country than I have).
6/25 64.2/1334.1 Miles City, MT - Plevna, MT
Another hard hilly day. But not as long as we thought. We left camp 20 min early (bad precedent) and headed east on rte12. The hills began right away. We did more than 2000 ft of climbing today, so much for "flat" eastern Montana. We will be out if it tomorrow though!!!! I can't wait to begin suffering in a whole new state. All this "flat"ness is getting tiresome. When we got to Plevna we hung out at the city cafe/bar/convenience store with the mayor for a bit, then camped over at the city park- sure hope they turn off the sprinklers.
6/26 61.0/1395.1 Plevna, MT - Bowman, ND
Early start again. Paul jetted before 7 and put the pressure on the rest of us, so we rolled at 7a.m.. We stopped at every town along the way. By the time I got to Rhame the free food was gone (they were having a gala) but Moni saved me a plate. I ran into a young kid with a chopped bicycle- we traded for a bit, but his was mite too squirrelly for me.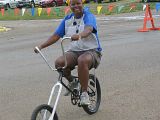 Today was hard, my legs need a rest and so do I. The last few days have taken a lot out of me(and I didn't have much to begin with). I'm still slow; by the time I get to a stop everyone is ready to move on. One good thing-WE GOT OUT OF MONTANA TODAY!!!!! Nice state, but I was tired of looking at it. The land in ND looks more farmy and rolling. Along the way I looked ahead and saw the road stretched out before me, it looked perfect, like a picture that makes you want to ride down it to see where it leads and all I could think was "sh@t; gotta go up another hill" So much for fantasy.