OREGON
[Washington] [Idaho] [Montana] [North/South Dakota] [Minnesota] [Wisconsin]
[Michigan] [Ohio] [Pennsylvania] [New Jersey]

We actually had to go across the whole state to take this shot

5/17 Portland, OR
I got into Portland around 7:30pm local. Caught the MAX train to downtown-easy, and you can take your bike. There's only 2 ways to Astoria, I managed to miss them both so I spent the nite with 2 Portland PHRED'ers, John and Susan, who didn't know me from Adam and treated me like family.




John and Susan


They not only gave me a place to sleep, they fed me and chauffered me around the next morning. John's a fixed gear guy (there's no accounting for taste) and a recovering benter. I didn't have enough time to pull him off the wagon. Susan is a teacher's teacher. She speaks fluent french and will be cycling europe with me in a couple of years- but she doesn't know that yet.
5/18 Portland - Astoria, OR
Susan dropped me off at the bus station this morning. This is my first bus ride since I was a teenager. I kept expecting someone to point out the emergency exits and the oxygen masks. There are no seatbelts and I rode the whole trip without my seat in the full upright position- so there. My bike is not due til tomorrow, so I guess I'll schlepp around town and buy stuff I don't need. note to self: stay away from the winery at the corner.
5/19 13.5mi Astoria, OR-Ft Stevens, OR
Moni and Paul got in last nite. We stayed at a hostel near the bike shop-the Hideaway Inn; no tv, no fridge- but at least the toilet was indoors- down the hall, but indoors. My bike came in today and was ready to go by 2ish. We loaded everything up and headed out to Ft Stevens on the coast. We stopped at a supermarket along the way to get dinner stuff, about a 10 mile ride to camp at a hiker/biker site at the park($4/nite). Got camp set up, laid everything out, went to make dinner and- @#$#@%&! I don't have the diddly-ding-dang pump for my stove! Hopefully I can get a replacement in Portland- but for now I'm stuck. We rode down the ocean after (cold) dinner to dip our wheels. When I saw how far I'd have to carry my bike thru the sand to get to the water I suggested we just pour a cup of salty water on the tires-but I got voted down. We hijacked some passersby to take our picture and posed around the wreck of an old ship. Then dragged the bikes back off the sand to go back to camp-the official start of our trip-3.5 miles. Back at camp I whined about the stove some more and spent the rest of the evening slapping mosquitos.
5/20 47.5/61.5mi Ft Stevens, OR- Clatskanie, OR
I was up at 6am, Paul's having trouble getting his stuff together so we didn't get on the road til 8. We road back into Astoria where Paul shipped back some of his gear-but he's going to hold onto the kitchen sink for a few more days. Mostly and up and down day with emphasis on the up. The weather was excellent- for Oregon; chilly and cloudy, but no rain. We stopped at the local safeway to pick up stuff for dinner (stupid stove) and I did laundry in town. My butt muscles are so sore that when I dropped my jacket I briefly entertained the notion of doing without it. We stayed at the park in Clatskanie and showered at the pool. I collapsed into my tent at 9pm- Moni was still practicing her jazzercise and said she was gonna run a "couple of miles" before bed. I'm thinking of hiding some cinderblocks in her panniers. Tomorrow should be an easy day, we're only going as far as Goble (about 20ish miles).
5/21 20.7/82.2mi Clatskanie, OR - Goble, OR
Low mileage today. We left out of Clatskanie and immediately hit a wicked hill. It was around 3 miles long and I'm sure I was passed by a mountain climber and two yodelers. I stopped often, no more than 1/2 mile between "equipment checks". Today we met a guy who used to be a hobo, a couple on a tandem and a guy RUNNING from Portland to Astoria. When we got to the "campground" in Goble(it was really a strip of grass between a boat ramp and convenience store/bait shop) we set up camp and went to the Goble tavern up the road. The outside looked like it would collapse at any second, but it turned out to be the coolest place, nice people, interesting decor and a resident Clff Claven. Willie Nelson's mom used to work there. We'll make Portland tomorrow. I'm tired but not really sleepy. We're pulling our routine together, setting up and dismantling camp is getting easier. I'm going to have to replace some equipment in Portland. I broke a tent pole today and my raingear is shredding. Apparently walmart raingear has a shelf life.
5/22 40.4/122.6mi Goble, OR - Portland, OR
Long rainy nasty day. I hate riding in the rain. At least I wasn't cold. We took our time, some hills but not enough to go into a full fledged whine about. We ate at "Burgerville"- organic fast food. The ride across St John's bridge into Portland was kinda dicey, very narrow lanes and no place to hide, so we hogged the lane and moved into construction sites when we could(Moni's idea) I met Beth Kurmaskie!!!! she has the same name as me! oh yeah and that metal cowboy guy was there too. We stayed at their house overnight. Wonderful family. They fed us and schlepped us around to pick up junk from REI. Tomorrow's a rest day- and I need a rest, my muscles are a bit sore and my left knee hurts. I think I hurt it during the gymnastics required to get my foot into the toeclip while going 2.9 mph uphill.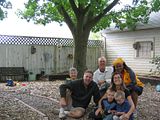 The try-try-again gang posing with the Kurmaskie's in their yard

5/24 38.6/161.2 Portland, OR Ainsworth State Park, OR
No entry for yesterday, we took the day off and hung out, ate out, did laundry, yadda yadda yadda. We stayed last night with John, Susan and Ben(John's son). They chauffered us around again. Me and Paul saw a Lewis and Clark thingie at the IMAX. I got motion sickness as soon as I walked in, the movie was so-so. We took John Susan and Ben to dinner where I swilled something called "the beer sampler". A tray with 6 different beers. For that one meal I was a legitimate 2 fisted drinker.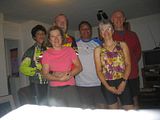 Photo op with John, Susan and Ben


Today was our first good weather day. We started @9am amd rode mostly on bike paths. Susan met us on the road and rode with us til after Troutville. We hit some hills- or some hills hit us. The scenery was beautiful, we followed the river gorge.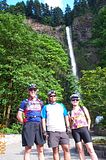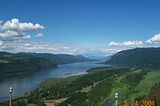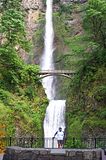 I saw a couple of waterfalls and we met a wonderful woman from my home state. Doris is German (I seem to be a teutonic magnet lately), she bought a bottle of wine after dinner and spent the evening with us. We also met Rusty, the camp host @ Ainsworth, he was sure the Indians didn't do THAT badly during the colonization of the U.S.. Hmmmmm....
5/25 40.6/201.8 Ainsworth Park, OR - Moiser, OR
Today was a long tough day. It's 9:45pm and I'm just getting in my tent. I'm worn out. We dragged the bikes up 3/4 mile of a huge gravel hill to get to this campsite. We didn't have enough time to make it to the next state park, Paul had a flat on the interstate(we did 16 miles of it) and we spent a lot of time in Hood River getting a new tire for him and finding me a replacement tent pole. Some of the hills were torturous, but the view was beautiful. The wind is really blowing out there, I hope I don't lose my rainfly. No services here, just a place to pitch a tent and 2 homemade picnic tables. I hope tomorrow will be better, I need a bath. We went over 200 accumulated miles today!!! I believe that is the ice cream anniversary.

This would have been a good time to shoot me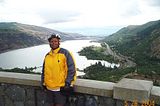 This might not be the right picture- but it is beautiful

5/26 50.9/252.7 Moiser, OR - John Day River Camp, OR
Today was our highest mileage to date. Out of Moiser we ground through the Columbia River highway, switchbacks and hills. The view fromt the top was nice and the downhill way too short. This took up about 25 miles, then we got on I84 and hit a nice tailwind. We made good time to biggs. We met a couple from Canada there heading the way we came from- I felt for them, they looked worn out. I had my first flat today. Don't know from what, of course it was on the interstate. My knee feels better and I made better time, I no longer need a calendar to time my rides- I can do it with a sundial. The campground we're staying at sucks; the showers are 20 miles from where we're camped and you have to keep pressing a button to keep the water running. Of course that's better than yesterday- but not by much. We were supposed to camp back at Biggs across the Columbia but we took one look at the windy bridge of death and decided it was easier to ride another 10 miles. There's supposed to be a big storm coming in tonite. The wind is really blowing out there. (Plus: my clothes dried quickly and I look like I'm moving faster then I am). Tomorrow promises to be a long wet day- but I've already cycled longer and farther then I ever have before. Factoid: there seems to be some sort of law in Oregon that all campgrounds must be within 10 feet of an active rail line and/or the freeway.
5/27 51.6/304.3 John Day River Camp, OR - Boardman, OR
Today we went over 300 miles!! I believe that is the crime spree anniversary. Today was also the most bestest cycling day I've ever had. We got out on time and ground up a long hill, then we hit a tailwind and zipped the next 15 miles. Paul got another flat and we were on the interstate all day, but we moved fast and the wind was our friend. We ran into Doris again. It was like meeting a long lost relative. She passed us in her vanagon and we stood on the side of the road schmoozing for awhile. To top it all off, when we got to Boardman Paul and I were waylaid by a guy who invited us to stay at his house. Joe owns a business here and lives in Hood River. He gave me a key and said for us to make ourselves at home- he even tried to lend us a car! We gave him some Warm Showers List information to give him an outlet for all that niceness. It was especially timely cuz just as we were coming into town the rainclouds were moving in.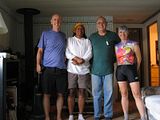 My body is a bit stiff and my knee is still annoying. I can't get over today, no rain, not too hot, not too cold. I zen'd the whole ride, put on my mp3 player and piled on the miles. We were done by 3:30 and we thought it was going to be a long grueling day.
5/28 49.6/353.9 Boardman, OR - Piere campground (near Touchet) WA
WE ARE THRU WITH OR!! This afternoon we sailed into WA on a monstrous tailwind, it was fantastic. I was clipping along at 17-19 mph-I don't go that fast unless my bike is strapped to the back of my car. We had lunch and did computer stuff in Umatilla, OR (that's indian for "I don't know what that means"- honest, the librarian told me). After that we sailed along til it was time to stop and mug for border photo ops. Moni swam in the Columbia river(brrr) and we took our last look at it. A few miles later we turned away from the river that we've been following almost the entire tour. We're staying at a wimpy campground with amazing port-a-potties. The dang things have running water, towels, soap and no smell. I was considering setting up camp there rather than the wind tunnel we ended up with. The place we're staying at is at the bottom of a steep gravel(of course) road. I fell over my bike on the road, rashed my elbow and my dignity. However Paul was there to comfort me with his camera at the appropriate moments. My knee is still sore some, I hope I'm ready for the hills to come, we've been pretty lucky so far. I need to stretch more and my fingernails have not been clean for a week.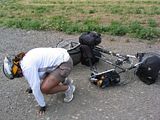 AHEAD TO WASHINGTON
TRY AGAIN HOME
HOME
PACKING LIST/ LINKS & BOOKLIST
STATE BY STATE