WISCONSIN
[Oregon] [Washington] [Idaho] [Montana] [North/South Dakota] [Minnesota]
[Michigan] [Ohio] [Pennsylvania] [New Jersey]

click on map to see enlarged view

7/13 72.2/2138.2 Elsworth, WI - Osseo, WI
I'm tired, today was hot, hilly and boring. Blah blah, too damn early. Yadda, yadda, not enough shoulder, blah, blah ow!! sunburn. Yadda, yadda, no place to camp. We got stuck at an overpriced "resort" RV camp- almost 20 bucks to pitch our tents on a patch of grass. No water, no electricity and the ultimate insult: quarter showers!!!
7/14 66.8/2205.0 Osseo, WI - Auburndale, WI
Yawn, same as yesterday, only not as hot. Stayed on rte 10. There's a veteran's memorial near Neilsville that was nice- they have a replica of the Liberty Bell that they encourage visitors to ring- it really works, I mean it REALLY works. Paul (he was ahead) called me and told me to make sure I stopped at the first tan lincoln I saw with a bike rack on the back. That's where I met Billy Anderson, talk about not expecting to see someone- I don't know who was more surprised; him finding a sister touring or me finding a brother out here who does RAGBRAI every year. Paul and I met up at Marshfield and rode the last 9 miles to Auburndale together. We're at a city park- bathrooms, no bath. This is tournament night; softball, volleyball, 2-hundred-kids-outside-my-tent ball. We went to the local bar and shot pool- I can't believe I lost 2 games. Tomorrow we'll hit Steven's Point and the Hostel Shoppe; the Mecca of recumbancy. they've got the largest selection of bents in the country. I can't wait.
7/15 60.1/2265.1 Auburndale, WI - Waupaca,WI
I got my highest average mileage today- 11.0, I am a speed demon (lol). We got on the road at 6:40(that's a.m.) and sped into Steven's Point. I was waiting outside the Hostel Shoppe with my white sheet ready to circumambulate the building when they opened.
I oohed and aahed and drooled for a bit, we ate, lost interest in cycling and went to the library. At walmart I ran into a couple who had a friend who did this year's RAAM(an 8-9 day cycling race across the USA). These people do hundreds of miles a day with maybe 2 hours sleep a night for the duration. Their friend dropped out with only 400 miles to go, it was either that or die. He chose wisely. Anyway they gave me some routing info. Seems 10 becomes a freeway and the change is so recent that most maps don't show it. From SP to Amhearst I felt like future roadkill. When I got to Amhearst I went into town looking for a library to find another way- but I only found a bar- close enough. I also found out that there was a bike path that went from SP to there-DOH!!! the road was decent after that, lotsa traffic but muy mucho shoulder. We're staying at a campground tonight. Showers, laundry and video games (hence showers, and video games- no time for laundry). We met a nice family here; John, Diane and their 2 boys visited our site for awhile. they were a mite to christian for my heathen tastes but wonderful people. We have a lot of miles to cover tomorrow, oh but I did get some paperwork for school from home. The coordination was perfect (thanx Jim).

7/16 85.2/2350.3 Waupaca, WI - Manitowoc, WI
I'm writing this on the 17th. I couldn't do it last night. Yesterday was a hard day. We left around 7:20 rode rte10 to Fremont and took 96 to Appleton. We ended up on old 10 again avoiding the freeway. It was windy and a bit hilly most of the day. I stopped a lot, prolly cuz I kept thinking of how many miles we had to cover. Anyway it was almost 8pm, I ran out of 10 and no Manitowoc in sight. I stopped a couple to ask directions and (for me) sped down the road. 10 minutes later the guy comes back and offers me a ride to the car ferry(that's where we're supposed to cross lake Michigan to get to Michigan). I weighed the pros and cons, considered the ramifications of cheating and almost threw my bike through the window to get it into his truck. Steve took me the rest of the way to the city- turns out I had at least another 10 miles to go, the city is that big- and dropped me off at the 'Y' to bathe and meet Paul (he went a different, hillier way). We ate and went to catch the boat across the lake- which looks suspiciously like an ocean. We were catching the midnight ferry (20% cheaper). I paid and we waited on line to board. Paul's phone rang, he answered it, said "are you serious?" and sat on the ground. His father died earlier that evening. We left the ferry and got a hotel. Paul caught a taxi to Greenbay this morning. I shipped his bike home. I'm not sure what to do now. I want to go on, but not alone. I am going at least as far as Detroit. I think I'll decide then. I cringe to think how much pressure I'm going to get from my family to come home (yes I'm talking about y'all), but to get this close... Anyway the readers digest version of yesterday is : everything sucked. I hope everything is ok for Paul.

7/18 66.5/2416.8 Manitowoc, WI - Marion, MI
Wow somebody hasn't been updating like they should. I stayed the day in Manitowoc. While I was at the bike shop I met Debbie and her daughter Jackie. They offered to let me use their PC. I spent the rest of the day with them. I tested her husband's (Mike) home brewed beer (it was pretty good). Jackie is working in a lab doing AIDS research (she made it sound really boring; "yeah, I'm working on saving millions of people-whatever" lol). They even took me to dinner with their youngest, Katherine. I caught the midnight ferry at...well, midnight. At the dock I met a very self contained insular cycle tourer from Canada. Martine is from Quebec and has been touring for 20 years (but not all at once). She started in Vancouver, headed down to Oregon and across. But she did it in 33 days, without a day off. We talked for a while and she shared some routing stuff with me. The ride across took about 4 hours. I slept through most of it-when I wasn't wandering around looking for a new place to sleep. We got in around 5 a.m., it was still dark so I napped on a bench til it was light enough to ride. I stopped to take the required picture at the state sign-it was weird doing it by myself. I followed rte10- its marginally doable. Michigan drivers apparently like to be close to any cyclists they pass. I kept leapfrogging with Martine til Reed City, where we were going different ways.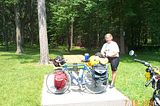 I got tired of the traffic on 10 and followed a sign for a little town called Hersey. I stumbled on a bike path that went all the way from Reed City (where I didn't catch it), to Evart, following 10. I met 3 people enroute; Bill, his wife Mary and their youngest Laura. When we got to the end of the trail they offered to keep me overnight. They live 15 miles off my route- but hey....At their home I met their other daughter Erin, her husband Doug and their 3 kids; Melanie, Ben and Nick. The boys were sick with some stomach thing that I think I took with me. I tried something called "milk rice" which isn't half bad- if you smother it with sugar, cinnamon and butter. of course there's very little that wouldn't taste good covered with all that. These are special people; devout Christians that don't hit you over the head with it. They live their beliefs and it really showed, though nobody ever spoke in tongues or smacked me with a bible. they're well traveled, exercise enough to make me tired just hearing about it and volunteer rebuilding homes all over the country.
BACK TO MINNESOTA

AHEAD TO MICHIGAN
TRY AGAIN HOME
MAIN PAGE
PACKING LIST/ LINKS & BOOKLIST
STATE BY STATE