-->
THE TRY, TRY AGAIN TOUR
On 20 May 2004 I will once again attempt to cycle across the USA. I've lost my original riding partner (Jalysa, my soon to be 15 year old) to the cheerleader pod people. This will be my first tour without her and I'm not sure how I will be able to ride without someone wanting to stop every 10 minutes and eat(it was the only excuse I had to rest).

this is Moni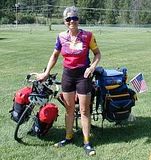 (and this is Paul)
Paul has never done any touring, so Moni and I have decided that we can tell him anything and he'll have to believe us. So far we've come up with; new guy has to set up everyone's tent, and buy the beer, and fix all flats, but we welcome any suggestions.



(this is me- before digital cameras)
loaded up and ready to go- Jalysa posing with my home for the next 3 months
I should be arriving in Astoria, OR on the 18th of May for a start on the 20th. My bike should be arriving on the 19th (God willing and the creek don't rise)
Where we are now
updated to 8/8 THE END!!!
Bored? Lonely? Want us to descend upon your home like a plague o'locusts? email me

HOME
PACKING LIST/ LINKS & BOOKLIST
STATE BY STATE
MY BEAUTIFUL SISTER