WASHINGTON
[Oregon] [Idaho] [Montana] [North/South Dakota] [Minnesota] [Wisconsin]
[Michigan] [Ohio] [Pennsylvania] [New Jersey]
Just a little taste of Washington state

click on map to see enlarged view

5/29 51.3/405.2 Pierce Campground, WA - Lewis/Clark state park, WA
Today was not a good day. I felt like I was pedaling thru molassas. I need a day off. My legs are almost dead. I found myself wondering why I'm doing this. I miss my family and my stupid cel phone isn't working right. OK end of self pity rant. We stayed on rte12 all day today. Some rolling hills. At Walla Walla we ate and hit the bike shop. The mechanic there was really nice. He invited us to stay the nite at his house, but since we're taking an extra day we declined. We went on thru Dixie(look away) where Paul cranked some kid on the pay phone outside a convenience store. Someone kept calling, Moni spoke to them in German, I babbled some French at them and then Paul answered with "Dixie police department, Sheriff Buford Smith speaking, can I help you?" They hung up and didn't call back, it was hilarious. Then we slogged up a big a@@ hill and cruised into Waitsburg. The 5 miles to Lewis/Clark was pretty level, but I was done in by then. Fortunately there was room. The showers are pay (50 cents for 3 minutes), but the wind is not whistling thru my tent so I'm happy. We met a cool family finishing up a world cycling tour to raise money for Asthma. Paula, Lorenz and their 2 kids Anya and Yvonne(14 and 11) are on tandems and following the same route to Missoula-we might run into them again. They're homeschooling the girls and have been on the road for over a year. They've been to: Russia, China, Taiwan, Australia, New Zealand, Thailand, Mongolia, France, Japan, Germany and some places I'm forgetting. I did some laundry so of course it rained. Today I'm gonna schlepp around and maybe work on my bike. Stupid cel phone still not working right- I get no service, so maybe I'll make some time to plead with it.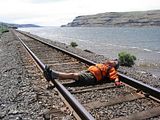 5/31 64.8/470.0 Lewis/Clark state park, WA - Chief Timothy Park, WA
Today was our highest mileage. The origianl plan was to camp in Pomeroy, bet we didn't feel as if we had punished ourselves enough so we kept on the 20 or so miles to the next campground. We went thru our first pass. Alpowa summit @ 2,785 feet. 5 miles of more up than down and 3 miles of hard climbing. I felt pretty good at the top, though my legs were a bit tired. The campground is nice, but expensive. I'm seeing more and more examples of government cutbacks- this used to be a state park, but has been contracted out cuz of cutbacks. We ended up paying $17 for a site. ouch. We met a couple from Oregon who both rode tour easy recumbents. I had a good time comparing notes and talking recumbent geeky stuff with them.
6/1 22.8/492.8 Chief Timothy Park, WA - Hellsgate State Park (near Lewiston), ID
For such a short ride today was a long day. It was an easy ride out of Chief Tim to Clarkston, WA, we didn't leave til after 9. When we got there we did some souvenier hunting and library stuff. I also had a major Cingular episode, All of us have Cingular, so I thought it odd when a couple of days ago my phone was the only one without reception. So when we crossed the bridge into Idaho(2 states down-10 to go) I went looking for a Cingular store. Of course said store was near the top of a big A@@ hill. There was nothing they could do with the phone, but Nate the manager(a really nice guy) offered to drive me to and from the 35 miles to the nearest service center. But when he called ahead they told him that since I purchased the phone on the east coast they wouldn't fix it-funny none of this is mentioned in my service contract. A fact that I will discuss in great detail to the letter I plan on penning to Cingular. At camp I waited on hold for over 15 minutes and never got through. Note to self: tell everyone I meet that Cingular sucks.
BACK TO OREGON

AHEAD TO IDAHO
TRY AGAIN HOME
HOME
PACKING LIST/ LINKS & BOOKLIST
STATE BY STATE